VIX500
Hello friend - traders. With this publication I want to warn you for the scam brokers and will show exact proofs for what happens in such scam trading companies. As i commented before, after I closed my profile in investing.com and after I closed my trading group in facebook with 400 traders and I'm still not invited even 100 of these traders, I was in difficult situation according to receiving lots of personal messages, emails,  messages and calls on my mobile phone. This is my reason to start project for trading website and for the moment we use only the forum modul.
I was flooded with different offers, most of them for account managing. In this case I decided to start collaboration with manager in trading company vix500.com, to give him clients and I'll take some comission for this, they said, that will trade according to my daily forecasts, targets, signals. But after week I saw that 2 of the accounts are bankrupt, and in the accounts there are the same money, but as bonuses, not real money. Of course, I asked and they said  that this is on purpose. Here is the situation with one of the accounts, but note that they can play with the numbers how they want, so the current statistic which I show now can be cleared and moderated how they want, as I said, because they did this with one of the accounts. So from here they lost my trust.
This is example for one bankrupt account on purpose:
This is the beginning of this account.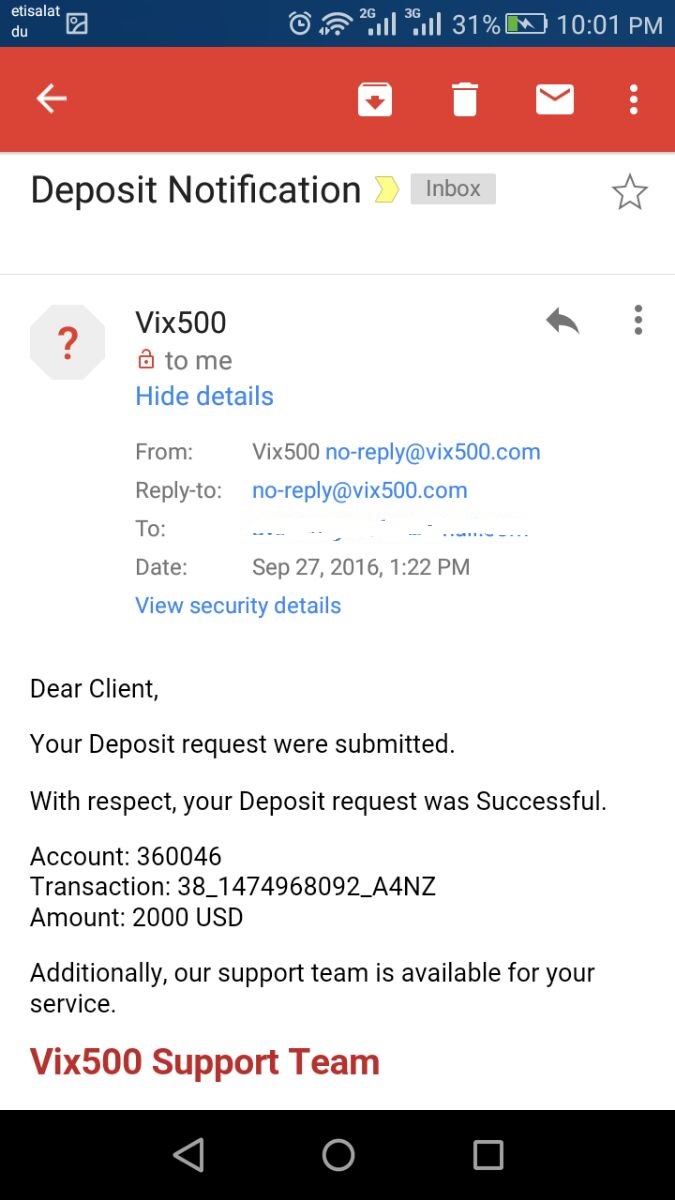 And then ... the details for this deposit are cleared from the account and this account is bankrupt to be taken the real money.
https://i.servimg.com/u/f97/19/53/74/92/211.png
https://i.servimg.com/u/f97/19/53/74/92/310.png
https://i.servimg.com/u/f97/19/53/74/92/411.png
According to this manager I had to take the documents of these clients and to give him, not uploading in the site. He was not in contact with my followers who wanted to register accounts there, therefore I had to do this. But actually this is absolutely ilegal and fraud, because first this is not my job and second these accounts continue to stay unverified and when he want he can withdraw the money from these accounts. He was and is absolutely able to contact these guys, who can't withdraw their money or their accounts are bankrupt on purpose.
+390694800945 ask for Raul there.
This idiot is trying to threatening me , but I don't care, because I didn't do and I haven't done nothing illegal. Trading with own accounts is not illegal. LOL Also from where he know that I'm whore. Мaybe he has a list of men that I've had sex? LOL
This is conversation with this manager from today. LOL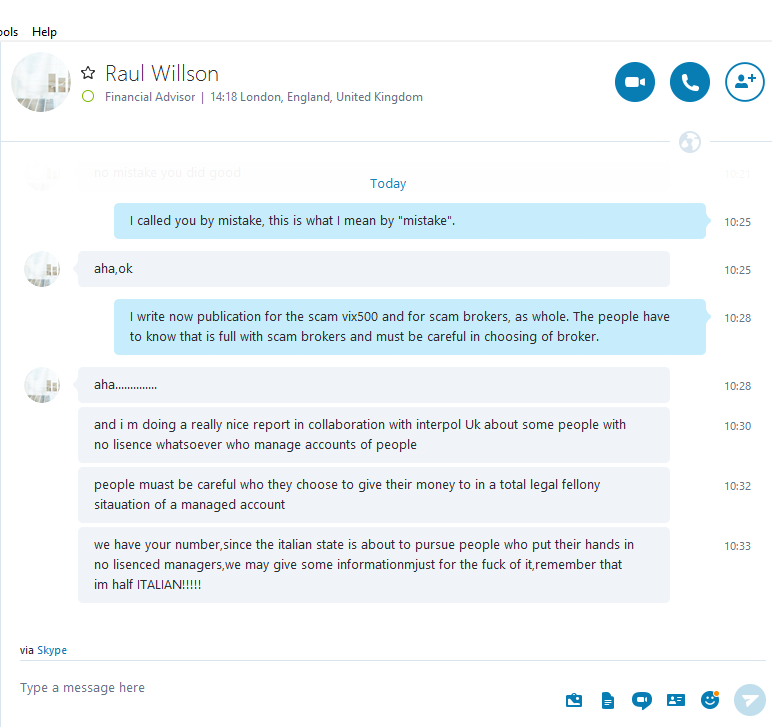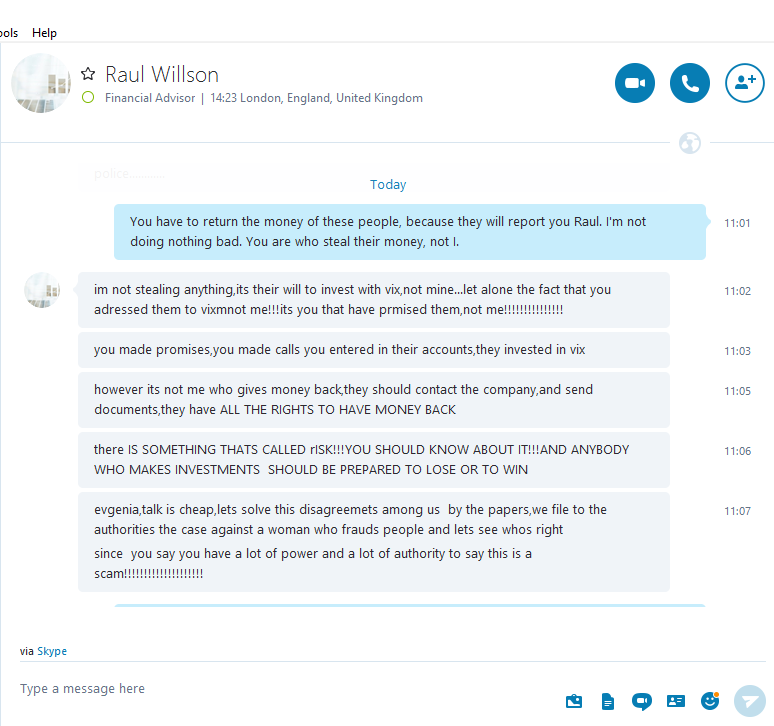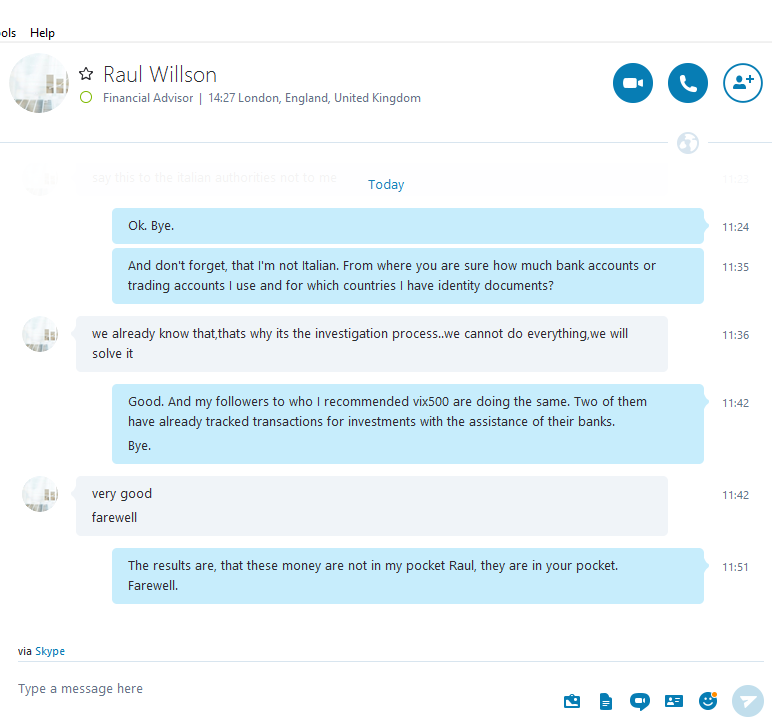 These are facts from my experience, but there are many cheating methods for manipulations clients, but I'm enough in mess for now and I don't want to comment at the moment other brokers or managers and their "legal frauds".
Last edited by Evgenia Gencheva on Wed Oct 19, 2016 9:49 pm; edited 2 times in total
The scammers are pathetic people, who try to defend themselves through threats, when they are about to be convicted of fraud and in any case are hiding like rats.
A Bulgarian proverb says: Dog that barks doesn't bite.
Me personally, as I said I don't care of threats, because I did not do anything illegal, unlike those scammers. I don't think, that taking money from people, who want to invest in my personal accounts is illegal, because I'm already consulted with many specialists. First, these people are not obliged or forced from me to give me money and secondly about my trading accounts, I personally invest money in my own accounts and I personally trade with my own accounts. I laugh at such pathetic people when they try to threaten me. The real crooks are always trying to justify themselves by saying that someone else is a crook, so try to wash their hands with other person, to defend themselves.
Such people do not have any moral values and scruples.
In fact, I've led them clients, they robbed them and have the courage to threaten me. Anyone can consider that these people are not people, they're criminals, baked crooks.
This is all information, that I have for this scam trading company VIX500, but I'm not sure, that information is correct, probably and this is not true information:  
Vix 500 is the trademark of Blue Sea Limited International Blue Sea International is the trading name of Blue Sea International Limited which is licensed by the Isle of Man Financial Services Authority
Blue Sea International Limited 31 - 37 North Quay, Douglas, Isle of Man, British Isles, IM1 4LB
Tel: +44 1624 627247 Fax: +44 1624 627248
www.islamic-banking.com
The Institute of Islamic Banking and Insurance, of which Blue Sea International is a corporate member
www.fsc.gov.im
Isle of Man Financial Supervision Commission
www.fsc.gov.im/companies
Isle of Man Companies Registry
www.gov.im/oft/ombudsman
Isle of Man Ombudsman
www.cimoney.com.ky
Cayman Islands Monetary Authority
www.fsa.gov.uk
Financial Services Authority, UK
Licensed by the Financial Supervision Commission of the Isle of Man
Established in July 2004 to provide professional and efficient fund administration services
Independent company able to offer flexibility to its clients
Offers full range of fund administration services including the establishment of collective investment schemes
Offices on North Quay, Douglas, Isle of Man
Directors and staff all have significant experience in fund administration
Use bespoke fund administration package, Paxus. (also used by leading fund administrators such as Credit Suisse First Boston, Custom House Fund Administration in Dublin,  and Bermuda Commercial Bank)
I can't deal with these idiots in VIX500 scam. They are for jail, which is not in my competence. All that I can do in this case is to provide contacts between the deceived traders and actually I'm not one of those. But responsibility must to seek and from investing.com, because they provide our data - emails and phones, to third parties. For example I have contact with scam broker vix500 from given my phone number. Before I had number and email in investing.com, but for my surprise the guys who call know and my other emails, not given from me, as contact details in my profile. To be given contact details to third parties - brokers, security for the traders from scammers must be guarenteed somehow from investing.com
Who has annoying calls every day (like me) from guys who work in different trading companies, contact me by personal message we can think something for mass appeal, against providing personal data to third parties without any guaranteed security from scammers, or in other words we do not know to who are provide or were provided our phone numbers and email addresses.


Similar topics
---
Permissions in this forum:
You
cannot
reply to topics in this forum