DAX 30 is still in consolidation tunnel in the first level of wave 9152.50 - 10820.10. So for the moment there is no dropping out of this zone, which is good indication for continuing uptrend.
https://i.servimg.com/u/f97/19/53/74/92/forex211.png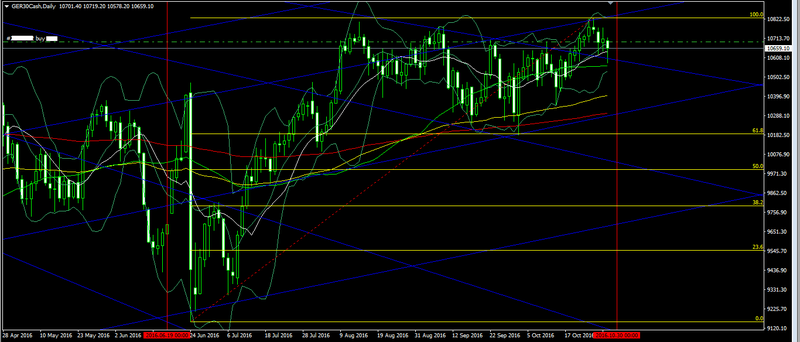 Actually I opened buy positions in Friday (Oct 28, 2016), before market closing.
My calculations for vertical resistance show high volatility this week for DAX. Based on fundamental reasons this can be explained with debates in accordance with US election, but in the same week of the election I can't see indications for huge movement, as I said already.
https://i.servimg.com/u/f97/19/53/74/92/forex215.png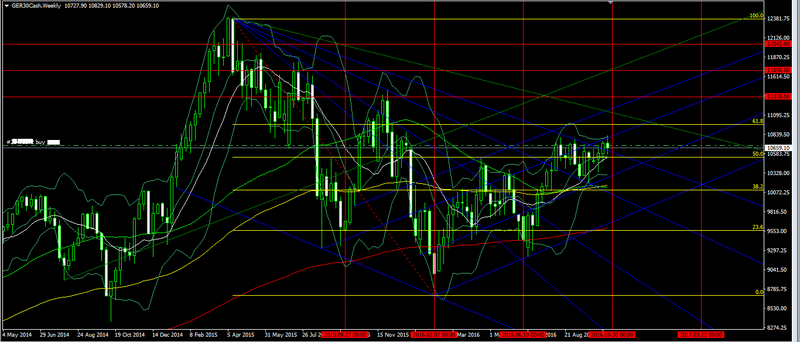 There are not any technical reasons for drop for any index, especially for DAX.
https://i.servimg.com/u/f97/19/53/74/92/forex219.png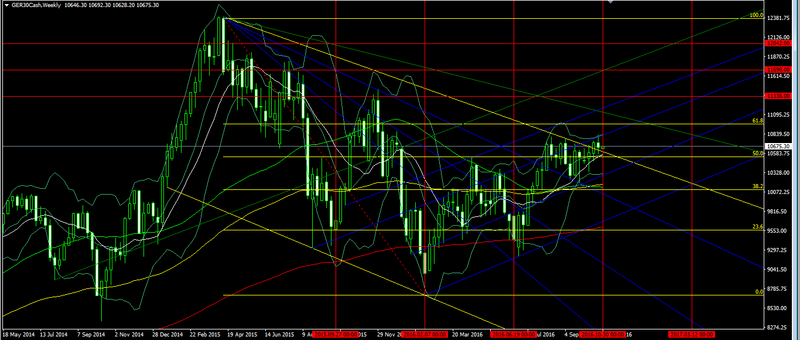 This madness on the market currently is political risk, selling to avoid losses or at least minimize current.
With other words - out of risky positions and take positions in cash, because of the high volatility that is expected. I mean that there will be no market makers, big fishes to trade, before the results.
At the moment all sales completed, which will coincide with the publication of the results of the US election, there will return the lost positions, but only provided that Trump is not president.
Otherwise mass expectations are for drop 5 % - 10 % which for DAX 30 index is below 10000, but it is only if Trump becomes president.
Technically I calculate that indices will reach bottoms on daily after 2 daily candles which means including 8th nov and after results at 9th nov, I expect reversal of the trend and recovering of the losses of the prices for all indices.
https://i.servimg.com/u/f37/19/53/74/92/forex_26.png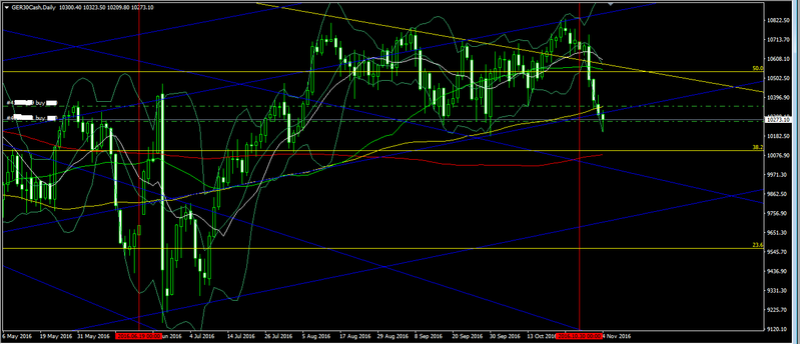 As we know whoever be elected president, will serve one's interests. In this case Clinton it is a lesser evil, because the market will expect such a policy, as was led her husband and have some predictability.
If Trump be elected president, there will be a complete circus. He has idea to raise taxes on the rich, they will begin to flee from US and move their companies elsewhere. Overall, the US economy will be seriously weakened.
Uncertainty is the word, which can be describe a possible victory of Trump. In this case is expected huge drop.
Absolutely logically, nobody needs trouble, so I expect the sentiments to remain positive and Clinton to be new US president.
As I commented, with yesterday's job report maybe there will be no increase in interest rates in combination with Hillary will be very good for stocks, indices.
Technically we dont have indications or reasons for huge drop. Brexit candle made an important higher bottom 9150, than the previous at 8700.
On this chart, I show the bullish channel (green trend lines), in which is DAX now with internal channels. The red line show the last bearish diagonal resistance. So for the moment DAX has only horisontal and vertical resistances. I showed already vertical resistances and in the next week we have such resistance. Horisontal resistances can be determined easily using Fibonacci retracement zones, which I showed also.
In brief, I expect for upcoming presidential US elections, candle between 10050 - 11050.  
https://dwq4do82y8xi7.cloudfront.net/x/6g9vRcaM/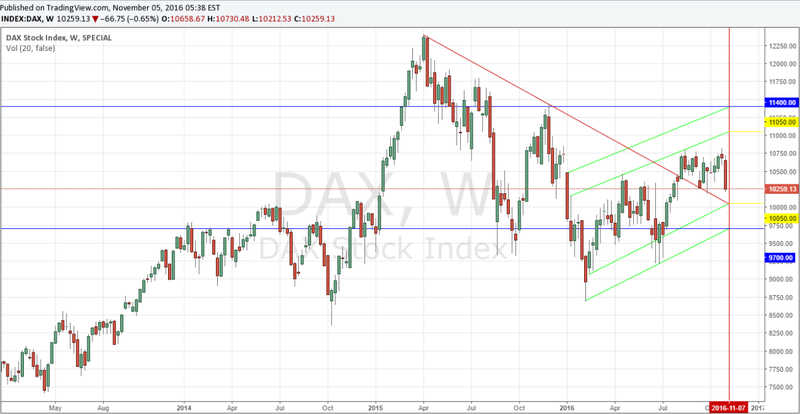 ---
Permissions in this forum:
You
cannot
reply to topics in this forum